For
FREE
Expert Advice
Call Any NCC Office and Our
Basement Waterproofing Specialists
will be Pleased to Help
Scotland :
01506 657996
Newcastle :
0191 419 2530
Chorley :
01257 266696
Sheet Waterproofing Membranes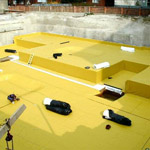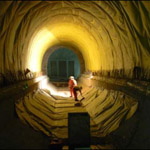 Sheet Waterproofing Membranes are Type A : External Barrier Systems, in accordance with BS 8102:2009.
They can be bonded or partially bonded to the structure during construction. Therefore they are really most suitable for waterproofing new structures when their is sufficient access during the below ground construction phase.
However they are also ideal for lining inside new or existng water and other liquid retaining structures, such as drinking water tanks or reservoirs, plus containment areas and swimming pools. In principle the impervious sheet waterproofing membrane is usually installed on the concrete face that is, or potentially is in contact with the water, to keep the water or liquid out of the structure.
Due to the bespoke / custome design requirement for sheet waterproofing membranes (especially the preformed connection pieces, terminations and connections to any integral waterbars)we do not sell sheet waterproofing membranes in our online shop, therefore please call any of our offices and one of our technical experts will be pleased to assist you and ensure that you get the right result on your waterproofing project.