For
FREE
Expert Advice
Call Any NCC Office and Our
Basement Waterproofing Specialists
will be Pleased to Help
Scotland :
01506 657996
Newcastle :
0191 419 2530
Chorley :
01257 266696
Cavity Drainage Systems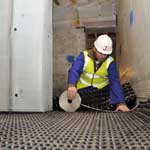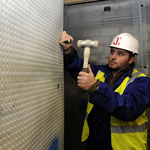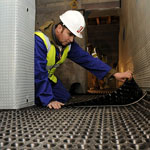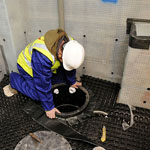 Cavity Drainage Systems provide Type C: Drained Protection, in accordance with BS 8102:2009.
Cavity drainage systems are waterproofing protection that manages water that penetrates the external shell of a structure, by collecting it in a cavity formed between the external wall and an internal wall or lining.
Today this is normally a specially designed cavity drainage lining membrane that is studded to maintain the cavity dimension and ability to transmit liquid water within the building envelope.
This is because there must be permanent reliance on this cavity to collect any ground water seepage and / or condensation internally and then direct it to a suitable drainage discharge point, or a sump for removal by gravity drainage, or mechanical pumping.
Cavity Drainage Systems must therefore always be of a bespoke design - albeit from relatively standard components - They are also often used in conjunction with cementitious tanking systems to keep water out of the building envelope or structural compoents for example, or to absolutely ensure complete watertight protection of the structure.
As a result at this time we have decided that it is in our customers best interest for us not to sell these products here in our online shop without prior technical advice in relation to the correct system design and build-up.
Therefore for all enquiries relating to cavity Drainage Systems please call any of our offices and one of our technical experts will be pleased to assist you and ensure that you get the right results with your cavity drain waterproofing project.