For
FREE
Expert Advice
Call Any NCC Office and Our
Basement Waterproofing Specialists
will be Pleased to Help
Scotland :
01506 657996
Newcastle :
0191 419 2530
Chorley :
01257 266696
Waterproof Jointing Systems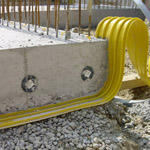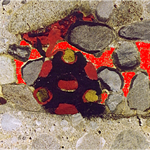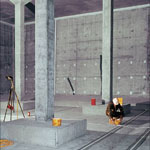 Waterproof Jointing Systems are Type B: Integral and Surface Applied Waterproof Sealing Systems, that are also known as watertight jointing systems including physical waterbars and waterstops.
The principal types of 'Waterstops' for construction and movement (expansion) joints can be classified as follows:
a) Passive waterstop sections:
These are polyvinyl chloride (SikaWaterbar PVC) or other synthetic elastomer based profiles (such as Tricosal Elastomer Waterbars)that are cast into the concrete and fixed into the structure on both sides of the joint, either at the concrete surface or mid-depth of the concrete section; designed to form a physical obstruction to water transmission i.e. these systems basically function by greatly extending the length water has to travel and therefore reducing the possibility of any leak occurring.
b) Active ( hydrophilic) profiles:
Preformed hydrophilic profiles or sealants (such as Sikaswell P or S) applied in the concrete joint at some depth in the section. The materials swell on contact with water; thus providing an enhanced obstruction to its path. They can used as a sole waterproofing material i.e in and around penetrations or also in a combined system with passive waterstop sections.
c) Permeable hose sections:
Permeable hose sections: (i.e. sika Injectoflex) are fixed to the construction joint surface before casting the second pour, to facilitate the injection of a specialist sealing resin into the joint, if and when required in the future.
d)Preformed Mechanical Expansion Joint Systems from Emseal
All of these different types of waterstops wand watertight expansion joint systems can be used to provide enhanced resistance to water transmission, in all of the different horizontal and vertical joints in a concrete structure, i.e. including movement / expansion joints; construction joints, transition joints, isolation or day-work joints, service pipe entries or any other penetrations through the stucture.
Due to the bespoke / custome design requirement for integral waterproofing systems (especially the preformed connection pieces, terminations and connections to other components), we do not currently sell waterbars and other integral joint waterproofing systems in our online shop, therefore please call any of our offices and one of our technical experts will be pleased to assist you and ensure that you get the right result on your waterproofing project.
External and internal construction and movement joints also need to be securely sealed according to the selected waterproofing concept with waterproof elastic joint sealants such as Sikaflex, or waterproof overbanding systems such as the well known and market leading SikaDur Combiflex System.
The sikaflex sealants are available to order onlibe below and for the SikaDur Combiflex System, again please call any of our offices for assistance.