For
FREE
Expert Advice
Call Any NCC Office and Our
Basement Waterproofing Specialists
will be Pleased to Help
Scotland :
01506 657996
Newcastle :
0191 419 2530
Chorley :
01257 266696
Cement Based Waterproofing & Tanking Systems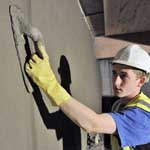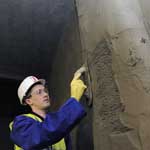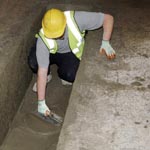 Cement based Waterproofing Mortars, Waterproofing Slurries or Waterproof Cement Tanking Systems as they are also commonly known, are the most widely used and well proven basement waterproofing and cellar refurbishment solutions.
These systems include waterproof multi-coat renders, mortars, slurries and coatings, that in combination or individually are also known as "tanking products".
They function by blocking the capillary pore structure of the concrete surface to liquid water ingress, but most remain permeable to water vapour which allows any entrpped moisture to escape and the struture to 'breathe'.
The application of the systems can be by trowel, brush or spray according to the specific products nature. The best known 'tanking system' in the UK and ROI is the Sika-1 prebagged waterproof tanking system.
Where required in accordance with the former Grade 4 Environment classification of 'Vapour tight' or for the revised Grade 3 where a 'Totally Dry Environment' is required i.e. for archive storage; then an additional vapour tight coating such as Sikagard 62 epoxy coating is applied on the inside surfaces.