Basement Waterproofing Contractors
Throughout the UK there are Specialist Waterproofing Contractors, plus Specialist Contractors who do 'Waterproofing Works' as part of their service, together with many different Building and Civil Engineering or Ground Working Contractors that have some degree and experience of - 'Specialist Waterproofing' works in certain situations.
Specialist Basement Waterproofing Contractors
These experienced waterproofing contractors are of all sizes and operate geographically locally, regionally, nationally or internationally according to their specific areas of expertise and work, in terms of their financial capabilities, their normal project type and size etc. It can therefore be difficult for Owners and their Professional Consultants to select the most appropriate contractors to carry out the waterproofing requirements on a particular project, especially when they are not actively involved in basement waterproofing projects every day – The NCC Basement Waterproofing Site experts around the country can help to solve this dilemma for you!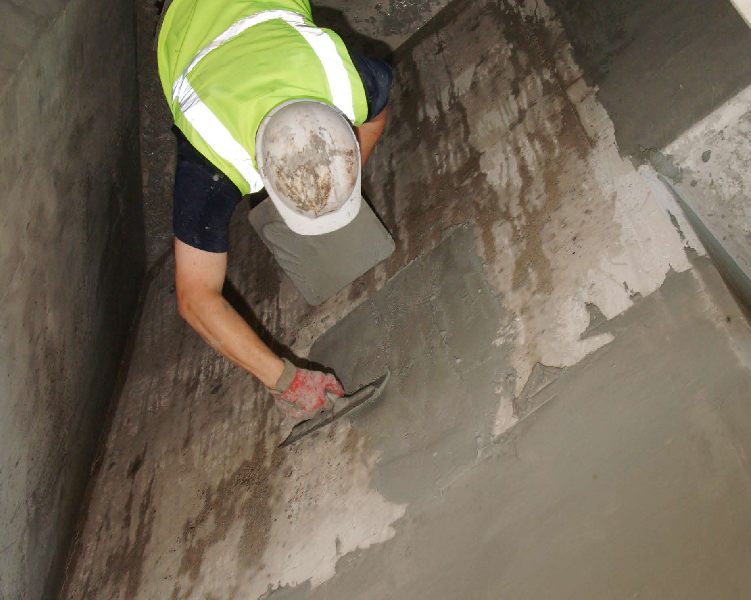 Avoid 'Cowboys' and 'Jack of All Trades' Waterproofers
There are also unfortunately in today's construction market a large number of contractors who profess to be able to do everything – 'Buyer Beware' the 'Jacks of all Trades who are Masters of None' - And certainly therefore not suitable for achieving durable, below ground structural and basement waterproofing works. These people may not all be 'Cowboys' or contenders for the next series of 'Rogue Traders', but we have seen so-called 'damp-proofing and waterproofing works being carried out with the guys actually adding water to waterproof concrete or mortar to 'make it easier to use' or nailing sheet waterproofing membranes into position: – and when challenged telling us "because it was the easiest way to do it vertically" and unbelievably adding "It probably won't leak there anyway"!!
Our Basement Waterproofing experts have a combined total of more than 120 years of experience in this business, and are focused on helping you to find the right waterproofing contractors to complete your projects to the highest standard and in the most cost effective way. This is because we also want to work with you on your next basement waterproofing projects and have you actively recommend us to your friends and colleagues: – This is the reason that NCC provides only the best Customer Service!
Waterproofing Contractors Must be Qualified Waterproofing Specialists
In most building refurbishment projects, it is unlikely that the waterproofing works will be the most costly component and therefore it can often be overlooked, left to the last minute, or the man on site to decide what to do and when! – Yet when water gets into a structure it can quickly destroy it function and the costs of rectification can be huge.
Instead this work must be related to the nature, scope and extent of the 'other' works and the most suitable method of access to carry out all of the necessary waterproofing details and installations, sequentially and / or simultaneously as appropriate for the project. This can become a contentious issue with other trades or aspects of the construction programme, so to avoid this and ensure that all aspects of the waterproofing have the attention and priority they deserve – And from a suitable waterproofing contractor of course.
Basement waterproofing must be carefully planned and executed by qualified personnel fully cognisant of all of the relevant structural and technical details, plus the owner's requirements, together with a full understanding of the implications of any possible waterproofing system failure or leakage. As now also strongly recommended in the revised BS 8102 (2009).
A waterproofing expert should be an integral part of the design and onsite construction team.
NCC is happy to provide this service and will also be able to help you find the right waterproofing contractors for your basement waterproofing project.
It is always a false economy if the waterproofing works are marginalised and left to general building contractors on their own – No matter how good their other areas of work or intentions, future problems with the watertightness and leaks in or out of the structure would be highly likely.
We are actively involved in waterproofing projects all over the UK, every single day of the year. Indeed we have been doing this as a core business activity now for over 30 years. Take advantage of our practical experience and technical expertise with FREE independent advice from the NCC Basement Waterproofing Site Specialists.
If you would like support and advice in selecting the most appropriate contractors for your project, please call any of our offices detailed on the left of this page and one of our basement waterproofing experts will be pleased to assist you.