Basement Waterproofing - Existing & Refurbishment
Including remedial waterproofing measures during the construction of new basements and other below ground structures.
There are many causes of water seepage and leaking of existing basement structures, even newly built basement structures can have water ingress and seepage problems. Principally the root causes are usually due to a combination of on or more of the following: poor design and/or specification and detailing, damaged or deteriorated materials, poor workmanship, movement or deterioration in the substrate / structure, a change in the external environment (e.g. rising groundwater or locally leaking sewers / water mains etc).
Additionally, adjacent building and construction works can also affect the pattern of groundwater flow and surface water run-off. Therefore with all of these potential problems it is not surprising that a number of these factors can combine to cause leaks and related below ground waterproofing difficulties if not anticipated and steps taken to prevent them whenever possible.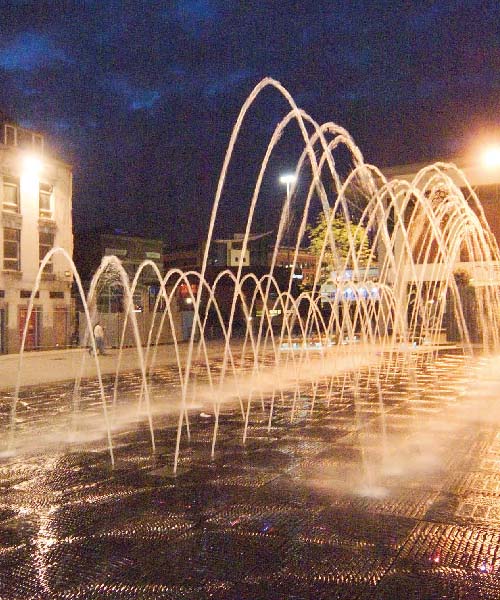 Before any remedial action is taken with the waterproofing of an existing basement, the damage or defects should be carefully inspected and diagnosed to determine the root cause(s) and the full extent of the failure or problem(s). This is important to clearly establish as soon as possible, whether the problems relate to faults within the waterproofing system as a whole, whether the faults are localized and ' only related to one section or component of the basement waterproofing, or the structure, or if the problems are due to other factors or external influences.
If you need additional support and expertise to do this correctly please call any of our offices and one of our waterproofing specialists will be pleased to assist you in making the right decisions.
For information on specific remedial basement waterproofing products and systems please refer to our 'Basement Waterproofing Products' and 'Basement Tanking Products' pages.
The Alternative Remedial Solutions for Waterproofing Basements
For technically correct procedures and systems for the waterproofing of existing basements during refurbishment, or where remedial works are required, the following waterproofing solutions can be considered, individually or in combination:
Replacement of locally defective materials (i.e. concrete repair or refurbishment of the waterproofing system if it is damaged - and if replacement or repair of the material itself is possible)
Installation of a tanking system (i.e. the Sika 1 Pre-bagged Tanking System, or a Tanking Slurry such as Remmers Kiesol slurry system), with or without a Cavity Drainage System (where required).
Installation of additional external drainage.
Localized works to the fabric of the structure (i.e. waterproofing with pressure or vacuum grouting).

Surface crack sealing with resin or cementitious mortar (i.e. with a Tanking slurry such as SikaTop Seal 107)
Crack filling by pressure or vacuum injection of micro cement or resin based materials.
These possibilities can all be considered as planned remedial treatments, some may also be included as a contingency measure in the specifications for new construction. To look at these alternative options in more detail:
i. Concrete Repairs Prior to Waterproofing
Any repairs to the concrete structure should be carried out in accordance with the relevant Part(s) of the latest European Standards EN 1504 - For assistance please refer to our sister site www.concreterepairsite.co.uk where there is a lot of additional information and advice on these new standards and the technically correct specification and execution of any necessary concrete repair works.
ii. Membrane Waterproofing System Damage and Defects
If the location of a defect or damage in an existing external membrane can be established and where access is not a problem, it may be possible to locally expose the waterproofing system and carry out repairs by excavating adjacent to the walls of the structure.
Where the membrane is externally applied and fully bonded to the substrate, i.e. in a bonded compartmentalised waterproofing system, (i.e. Sikaplan Compartment system), or a self-adhesive bonded sheet system (i.e. Grace Preprufe System), the defect location and its extent is relatively easy to diagnose. This is because the problem is usually located at the position where visible dampness or seepage occurs. Once this position is located, then the most appropriate remedial action can be decided, which for these externally bonded sheet membrane systems, is usually external patch repairs where access is possible, or resin injection / grouting from the inside to seal the leak.
With internally applied, fully bonded membrane waterproofing systems, once the internal finishes have been removed to reveal the defect, the membrane can obviously be seen and repaired using compatible materials. However where the internal membrane is only partially bonded to the substrate, as is most common is in the UK, then the defect might be more difficult to locate, due to lateral water underflow. Also even if the defect can be found, further latent defects can follow including additional water underflow and migration.
iii. Remedial Waterproofing with Pressure Injection or Vacuum grouting
Pressure or vacuum grouting / injection to cut-off and block any seepage can successfully repair isolated cracks and other minor defects. However, where a large number of such defects occur, it is usually more practical and cost effective to prevent future water ingress by other methods, such as an internal surface applied barrier waterproofing system.
There are a significant number of different grouting / injection products and systems available for use in remedial waterproofing works and these include product based on:
cement or modified cement based with styrene butadiene rubber (SBR) or acrylic latex.
chemical resins / gels (e.g. acrylic , epoxy, polyester or polyurethane).
To carry out this work, the injection / grouting holes should be drilled through the walls and floor of the structure adjacent to the defect / damage in the basement waterproofing; sometimes these can be inclined to intersect water seepage paths. The injection / grout material should be forced into the substrate and / or the void behind the externally applied waterproofing and the localised defects or damage to seal the leak.
As the most suitable leak sealing injection grout selection depends on a lot of different parameters and also because their application is done with specialized techniques and equipment, NCC's waterproofing expert's advice should generally be sought for guidance as soon as possible.
Note: When using injection grouting techniques as a remedial solution for new or refurbishment works in basement waterproofing, there is often more than one phase of this grouting or injection needed and time and budgets must allow for this possibility. This is because the seepage can move through the structure or by lateral underflow behind the waterproofing system, to become visible again at other defects elsewhere in the structure, i.e. higher up the walls or elsewhere dependent on the water pressure and the precise nature and extent of any defect(s).
Basement Waterproofing Site are experts in all types of grouting and injection works and our technical specialists can advise on the best procedures and the right materials selection for any remedial waterproofing actions that become necessary on your specific project.
The different remedial waterproofing injection materials that are available include:
A. Waterproof Surface Crack Sealing with Thixotropic Resin or Cement Based Mortars.
Where structural continuity is not required and there is no hydrostatic pressure to prevent the adhesion of the repair material, thixotropic resin grouts, or modified cement slurries can be brushed or tight trowelled on to the surface and directly into any cracks and porous areas, to seal them against future water ingress. Typical products based on different types of materials for this purpose are:
Polymer-modified cementitious tanking slurries i.e. SikaTop Seal 107, Sika Damp-proofing Slurry, or Remmers Sulfatex Grout.
Cement based crystallization slurries i.e. Xypex.
Epoxy resin based mortars.i.e. Sikadur 31
B. Waterproof Crack Filling and Sealing by Low Viscosity Pressure or Vacuum Injection.
Cracks - Pressure or vacuum injection can be used to very successfully seal cracks and joints completely within the reinforced concrete structure of a basement, particularly those at or around kicker joints, where a Waterstop has become displaced, or where cutting-out and replacement of the waterproofing element is not practical or cost effective.
Typical injection grouting products are based on the following types of materials for low viscosity pressure or vacuum injection:
Micro-cement grouts i.e. Sika InjectoCem 190
Single component acrylic or polyurethane resins i.e. Sika Injection 20 or 201
Two component reactive epoxy or polyurethane resins i.e. Sikadur 52
Porous Areas - Porous areas of concrete can sometimes be injected successfully with this type of low viscosity material to strengthen as well as to waterproof them, but severe honeycombing and voids usually requires the area to be cut out and replaced with a suitable concrete repair mortar in accordance with European Standards EN 1504 (refer to our sister website www.ConcreteRepairSite.co.uk for specific advice on concrete repair works specification and execution).
C. Overall Considerations for Remedial Waterproofing by Injection and Grouting
The selection of the right grouting / injection method and material system should take into account:
The type of damage / defect
The type of waterproofing system that has been damaged
The type of structure
The nature and use of the area
The access possibilities
The likelihood of structural movement;
The nature and size of the defect;
The moisture content of the substrate;
The temperature of the structure;
Basement Waterproofing Site's specialists are experts on all types of slurry applied waterproofing and tanking, plus surface grout sealing and all types of resin injection. For advice and support on your project please call any of our offices (the telephone numbers are on the left of this page) and one of our team will be pleased to assist you.