Standards & Specifications
Basement Waterproofing Standards
There are a number of different national basement waterproofing standards relating to the waterproofing of below ground structures. Generally these are defined according to the type and nature of the structure that is to be waterproofed. Unfortunately there are currently no agreed International (ISO) or European Standards (EN) in this important area. However there is a very useful and recently revised (October 2009) and updated British Standard in relation to the waterproofing of basements and other below ground structures which is:
BS 8102:2009 Revised – Code of Practice for the Protection of Below Ground Structures Against Water From the Ground.
British Standard 8102 was originally published in 1990 , when it superseded the earlier Code of Practice for Basement Waterproofing CP102:1973. The new BS 8102:2009 version is a complete revision and update of the earlier codes of practice and standards. The principle changes include considerable additional factors, information and considerations which are important when designing, specifying and constructing below ground structures. This includes: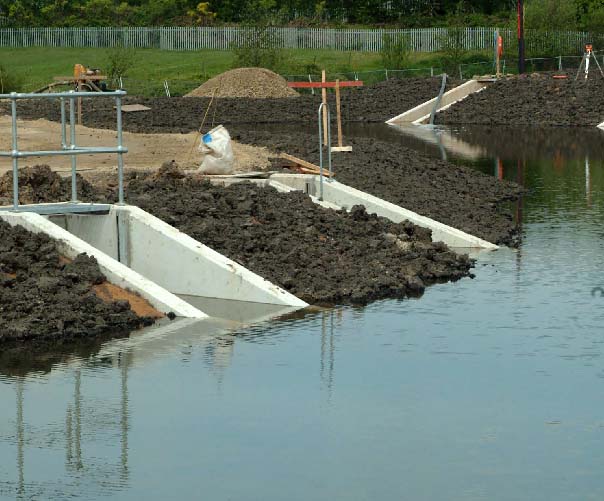 The increase in deep basement construction in congested urban areas (deep is now clearly defined as meaning more than one storey below the ground level).
The increase in the provision of residential basements for new homes and residential developments in the UK.
Updated information as a result of the continuing development and use of new materials and systems for successfully waterproofing basements.
British Standard BS 8102:2009 defines the alternative basement waterproofing solutions available as including the use of:
Waterproof barrier materials that are applied to the surface of the structure (Defined in BS 8102: 2009 as Type A: Barrier Protection).
Integrally watertight design and construction (Defined in BS 8102: 2009 as Type B: Structurally Integral Protection).
Drained internal cavity construction, with or without sump and pump (Defined in BS 8102: 2009 as Type C: Drained Protection).
This new British Standard also now specifically recommends that a waterproofing specialist should be included as part of the project design team and that this Waterproofing Specialist should be:
Suitably experienced in the relevant waterproofing technologies for the type of structure.
Capable of devising alternative waterproofing solutions that can accommodate the relevant project's requirements and constraints.
Able to provide the rest of the design team with the relevant waterproofing design and construction criteria and considerations, so that this information and guidance can assist and influence the design, installation and future maintenance requirements of the structure both technically and also practically on site.
Independent Basement Waterproofing Consultants
As the UK's largest and completely independent basement waterproofing consultants, NCC Basement Waterproofing Site has technical experts that are ideally qualified to act as the Waterproofing Specialist in your project design and construction team.
Our waterproofing specialists can advise on all aspects of basement waterproofing and all types of waterproofing system. This includes the waterproofing strategy selection, the waterproofing system design and then the waterproofing system installation according to the specific requirements of your project. This is undoubtedly the best way for you to ensure selection and completion of the most cost effective and durable basements and other below ground structures.
All of our basement waterproofing specialists are particularly experienced in difficult refurbishment situations requirements for the design and installation of basement waterproofing systems to make existing damp basements into fully useable accommodation, or valuable commercial space. With NCC's Basement Waterproofing expertise this can even be achieved against hydrostatic water pressure and against active running water infiltration.
Other important areas of waterproofing work for NCC's Basement Water proofing experts and where, additional specialist expertise is also required, include the waterproof lining of below ground lift pits and electrical switchgear installations; the waterproofing lining and surface protection of drinking water reservoirs, plus reinforced concrete and older brick built liquid containment structures that have to be brought up to modern standards, for environmental protection reasons for example.
Basement Waterproofing Specifications
For any type of basement waterproofing project, an important prerequisite for its success, is that a project waterproofing specifications must be prepared in accordance with the agreed waterproofing strategy. This must be drawn up in advance with complete detailed specifications, including all necessary materials and systems, with all necessary drawings and detailing solutions; plus a full Method Statement covering exactly when and how to install the waterproofing system and all of it components.
Basement Waterproofing Specifications Must include:
Reference to the structures location, condition, exposure, use and any other relevant requirements.
Full details and the required specification of the waterproofing system and products selected.
A complete Method Statement for execution of the works, including remedial actions, should these be necessary on site.
Full details and drawings where helpful for all necessary waterproof detailing solutions including all joints, pipe entries, service ducts and any terminations with existing / other structures.
NCC's Basement Waterproofing Specialists can provide all of the necessary specifications, detailing and method statements for your project – Please call any of our offices detailed on the left of this page and one of our waterproofing specialists will be pleased to assist you.
For specialist basement waterproofing expertise and advice to assist you in 'Keeping Water Out' – or 'Keeping Water In' on your project - Please contact any of our offices and one of our basement waterproofing specialists will be pleased to advise and assist you. NCC Basement Waterproofing Site provides you with this extensive support and advice FREE OF CHARGE.