Products & Systems
Basement Waterproofing Products
Basement Waterproofing Site's specialists are involved every day with all of the different types of materials, products and systems for successful basement waterproofing. These include:
1) Waterproofing Type A Barrier Protection Products (Externally or Internally Applied)
i. Bonded Sheet Waterproofing Membranes (for new construction waterproofing works)
Bonded sheet membranes may be pre - or post-applied to the structure.
Pre-applied: Pre-applied membranes are usually attached to the concrete blinding for slabs and to the formwork for the walls and vertical surfaces. With fleece fabric layers they subsequently become bonded to the concrete walls and slabs as they are poured. Typical examples of these products are the Grace Preprufe range. These sheet waterproofing membranes are produced using HDPE bases self-adhesive membranes fully bonded through the laminated fleece on the concreting side, other systems are also available based on the even more durable FPO sheet membranes are also available.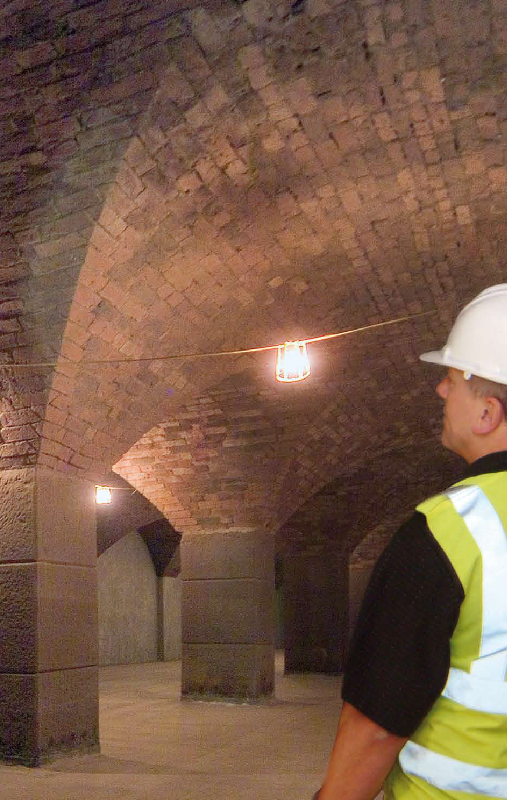 Post-applied: Alternatively sheet membrane waterproofing systems are post-applied to the structure and jointed by welding (hot air) to the integral joint waterstops in a combined waterproofing system.
Internal (i.e. for water retaining structures to keep water in) and external (i.e. for basements to keep water out) bonded sheet membrane syatems need to be supported and protected by the load-bearing structure itself and / or additional protection boards, so that external ground or water pressures can be adequately resisted.
It is very important with all post-applied sheet membrane systems that the substructure has a suitable substrate surface finish to apply the sheet membranes onto. The concrete slabs are again poured over this type of sheet membranes that are loose-laid on the blinding and welded at the joints. Where required they are also pre-welded to the joint waterstops, such as external waterstops or when they are being used to create a compartment waterproofing system. On the blinding and for post-application on concrete walls and other surfaces, they must be free from raised ridges and sharp corners, plus any indents or voids should be pre-filled and tie-wires etc. removed, so that overall it is finished to a smooth, uniform level surface. Brick and blockwork walls must have flush joints, or these must also be pre-filled by pointing.
ii. Liquid Applied Waterproofing Membranes
There are many different types of Liquid Applied Membrane (LAM) Waterproofing materials and they all have different application and performance advantages and limitations. these materials range from polymer modified bitumen's (such as Remmers Profi-tight), through single pack polyurethanes, to very high performance 2 component polyurethane (such as Liquid Plastics Decothane range) and other resin based materials (designed for both New and Refurbishment waterproofing works). Details on the preparation of substrates, application rates, method statements and curing requirements are detailed on the individual Product Data Sheets.
In principle many difficult waterproofing problems 'from the basement to the roof' of buildings and many other structures can be solved with liquid applied waterproofing membranes.
Suitable protection to liquid applied waterproofing membrane systems should also be provided once it has completely cured and hardened, if it is to be exposed or back-filled, such as protective boards purpose designed for this purpose and cut to fit the external profile.
For additional advice on the suitability of liquid applied membranes for waterproofing on your project, please call any NCC Basement Waterproofing Site office and one of our waterproofing specialists will be pleased to assist you.
iii. Geosynthetic & Clay Waterproof Liners (using bentonite clay for New Construction Waterproofing Works)
Traditionally bentonite is a natural clay mineral, following similar principles to the use of clay for waterproofing as it is has been for thousands of years. The bentonite clay absorbs water and expands when in contact with water, also forming a barrier to the transmission of further water or other liquids. The bentonite is held between two geosynthetic layers and forms an impervious seal bonded to the concrete surface. They are available in two types:
Dry bentonite liners which rely on activation taking place on site from the absorption of the groundwater once installed.
Pre-hydrated bentonite liners, which are manufactured by vacuum extrusion and therefore they do not need to be additionally hydrated on site.
Bentonite based waterproofing materials have largely been replaced with newer and more efficient technologies for basement waterproofing projects in the UK, but they are still widely used around the world for new-build basement waterproofing due to their relatively simple installation and low cost, but NCC find that today there are normally much more effective and efficient waterproofing solutions available.
Important Notes: Bentonite-based waterproofing solutions can only be used on new construction projects and where it is certain that they will always remain confined between two surfaces and they cannot ever be left exposed. The main problem with these older technology waterproofing products is that in variable water table conditions, all bentonite systems are not effective and can be washed out through cyclic wetting and drying.
iv. Mastic Asphalt Waterproofing (for new construction basement waterproofing only)
Important Note: Mastic asphalt standards dictate that it should always be applied in a minimum of three coats and that concrete surfaces must be prepared. Smooth concrete surfaces will not provide an adequate key, so mechanical surface preparation is always required.
In common with many UK building owners and architects, NCC no longer recommend Mastic Asphalt, nor any other hot or flame applied materials for waterproofing works due the difficulties of application on site, due to the risk of fire and the corresponding and increasingly prohibitively high insurance costs and the onerous contractor / specifier / owner risk liability and implications.
v. Crystalline Slurries and Powders (New and Refurbishment Waterproofing Works)
Cement based crystalline slurry barrier coatings are blends of cement, sand, additives and so-called 'active' chemicals. They are supplied in pre-batched units of slurry product, or in powder form to be mixed with water and cement and also applied as slurry coating, directly onto prepared concrete surface. The 'active' chemicals combine with free lime and moisture present in the concrete capillaries to form insoluble crystalline calcium silicate hydrate complexes, which block the pores and also prevent water ingress. Crystalline waterproofing product of this type include materials from Remmers, Xypex and Sika.
The cement based crystallization waterproofing barrier coatings can be applied to the internal or external surfaces of a concrete structure by brush or spray. They are suitable for use on both new and existing structures, and some claim that they do not require an additional protective layer such as the modified render coats normally employed for this. However NCC's Basement Waterproofing Site specialists believe this to be a false economy and that any surface waterproofing solution must incorporate a physical layer rather than just surface treatment by the coating alone. This is due to the variable consistence and porosity of the substrate as this can lead to wide variations in effectiveness for the waterproofing treatment, if this is not completed with the additional 'protective' layer.
The concrete surfaces should always be mechanically prepared to have an open textured surface and capillary pore structure, prior to application of this type of crystalline waterproofing barrier.
vi. Cement Based, Multi-coat Waterproofing Renders, Mortars and Slurry Coatings (for New and Refurbishment Waterproofing Works)
This is one of the most widely used and well proven basement waterproofing solutions for refurbishment waterproofing projects throughout the UK, Europe and the rest of the world. They are also preferred in some situations for new construction due to their ease of application and cost effectiveness.
The installation of cement based multi-coat renders, mortars and coatings should, be left until as much as practicable of the structure is built and therefore its dead load has been created. The substrate should be prepared to an open textured surface and capillary pore structure in accordance with the relevant product PDS prior to application of the system which can be by trowel, brush or spray according to the specific products nature. These products are also known as 'cellar tanking products' or 'basement tanking products' and the best known and most widely used in the UK is the BBA Aproved, Sika-1 prebagged waterproof tanking system. The Sika 1 Tanking system is applied as a combination of a tanking slurry and then built up with tanking renders in a multi-coat waterproof tanking system.
The slurry applied systems are also known as 'tanking slurries' and include the well-known and also BBA Approved, SikaTop Seal 107 tanking slurry and Remmers Profi-Tight tanking slurry. These are both applied by 'slurry brush' in 1 – 3 coats according to the waterproofing system's performance requirements.
Details on the cement based multi-coat waterproofing products application methods and thicknesses, consumption rates, mixing ratio and requirements, the number of layers/coats and curing required can vary quite considerably between the different products and systems. Therefore we recommend that you read the relevant Product Data Sheet (PDS) and Materials Safety Data Sheet (MSDS) and if you have any concerns, and then please contact any NCC office for detailed information and advice for your specific waterproofing project. The substrate and structural elements should also be assessed for their suitability to withstand any increase in applied loads from future water pressure after the waterproofing is complete.
For more information on basement waterproof tanking products please refer to our 'Basement Tanking Products' page.
2) Waterproofing Type B Structurally Integral Waterproofing Protection Products
Obviously integral waterproofing product, systems can only be used as the waterproofing system, or as a component of the waterproofing system for new reinforced concrete structures. They can also be designed to achieve or assist in preventing water vapour ingress.
For more detailed information please refer also to the 'Basement Waterproofing - New Construction' Page.
This approach cannot normally be used for refurbishment works, as Type B integral waterproofing protection relies upon the waterproofing materials being incorporated into the structure. However they are very often ideal for use in extension situations for the potentially complex connections and providing watertight joints between new construction and existing structures.
Pipework and other service entries are particularly vulnerable to water penetration, so where these cannot be avoided, they should be carefully detailed, for example by incorporating preformed hydrophilic gaskets and swellable hydrophilic joint sealants (such as Sikaswell P profiles and SikaSwell S sealants) to minimize the risk of any future water ingress.
NCC Basement Waterproofing Site specialists can assist you to determine most appropriate integral waterproofing solutions for your project including the complete specifications, detailing solutions and method statements.
A summary of the key component products includes
i. Watertight Concrete Using Waterproofing Admixtures:
These are the waterproofing admixtures which increase the inherent resistance and therefore reduce the permeability of concrete to water and water vapour. Waterproofing (water-resisting) admixtures such as the BBA Approved Sika-1+ system that is used in conjunction with Sika Viscocrete high range water-reducing admixtures to achieve the necessary reduction in water permeability of the concrete.
Concrete containing a proven waterproof admixture (i.e. the BBA Approved Sika-1+ system), will have a considerably lower degree of water permeability and water vapour transmission. The concrete mix design and placing must always be adequately supervised at the ready-mix plant and on-site. NCC basement waterproofing specialists can assist with this supervision on your site.
These waterproofing admixtures are generally to be used in conjunction with the integral jointing systems below and these are normally approved and supplied by the waterproof concrete admixture producer to ensure compatability and waterproofing system responsibilities.
ii. Waterstops:
Waterstops are established solutions for integral joint sealing and NCC can provide detailed advice and support to select, specific and install the right system on your project. The principal types of waterstops for construction and movement (expansion) joints can be classified as follows:
ii. a) Passive waterstop sections:
Today these are usually flexible polyvinyl chloride (PVC) or other synthetic elastomer based profiles cast into the concrete and therefore fixed into the structure on both sides of the joint, either at the concrete surface or mid-depth of the concrete section, to form a physical obstruction to water transmission; i.e. these systems basically function by greatly extending the length water has to trowel and therefore reducing the possibility of any leak occurring.
ii. b) Active ( hydrophilic) profiles:
Preformed hydrophilic profiles or sealants (such as SikaSwell P or S) applied in or concrete joint at depth in the section. The materials swell or give rise to crystal growth on contact with water providing an enhanced obstruction to its path. They can be used on their own as the joint sealing system with limited exposure to water pressure, or in a combined system with passive waterstop sections for example.
ii. c) Permeable hoses (i.e. Sika Fuko) or special sections (i.e. sika Injectoflex):
These are fixed to the construction joint surface before casting the second pour and they are specially designed to facilitate the injection of a specialist sealing resin into the joint, if and when required in the future.
All of these waterstops can be used to provide enhanced resistance to water transmission in all of the joints in the concrete structure, e.g., including movement / expansion joints; at construction, isolation or day-work joints, service entry pipe or other penetrations. The positioning of the waterstop(s) (external and/or internal) should be appropriate for the method of construction and the level of risk. Particular attention should be given to the use of waterstops in the movement / expansion joints in the concrete structure (although the requirement for these should always be avoided by design wherever possible).
Where centre-bulb waterstops are used, the methods of fixing should also be sufficient to keep the components in the correct position during the concreting operations. These must always be adequate compaction of the concrete around these internal waterproofing components to avoid actually creating paths for subsequent water ingress. NCC can support you throughout the design and installation phases of your waterproofing projects.
3) Waterproofing Type C: Cavity Drain Waterproofing Protection Products
Type C Cavity Drain Waterproofing Protection manages water that penetrates the external shell of a structure, by collecting it in a cavity formed between the external wall or floor and an internal lining/wall/floor surface. There is permanent reliance on this cavity to collect any groundwater seepage and condensation internally, then direct it to a suitable discharge point e.g. drains or a sump for removal by gravity drainage or mechanical pumping.
Traditionally, the drainage cavity in floor construction was formed by the use of a no-fines concrete base or ceramic drainage units / channels embedded in the concrete. These are rarely used today due to cost and their dimensions in new construction, but this design might well be encountered and have to be accommodated when refurbishing existing structures.
Structural aspects of cavity drainage:
The exterior walls of the structure should be capable of controlling the quantity of water that can pass through it, in order not to exceed the drainage capacity of the system. Water entering a drainage cavity system is regulated by the structure, so any defects that might result in unacceptable leaks should be remedied before the new drainage cavity membrane is installed.
Cavity drain systems do not change the loadings on an existing structure due to water, other than where remedial measures are taken to control the level of water ingress.
Cavity drain membranes:
Cavity drainage membranes form a permanent void or 'cavity' between the external elements of the structure and the internal wall/floor finishes. Such cavities vary in width, depending on the design of the stud height or profile of the membrane; They are usually ≤ 20 mm according to the anticipated volume of water that they are to channel to where it is drained or pumped out of the structure.
Cavity drain membranes should be used in accordance with appropriate stud height or profile after considering the external hydrostatic pressure, the porosity of the structure and the predicted rates of water ingress though the structure's external fabric.
Cavity drain membranes have a particular advantage in that they can be used on surfaces that have been contaminated with impurities. However, in these situations, consultation should first be undertaken with the local Environmental Agency regarding any potential discharge from the system.
Before a cavity drain membrane is laid or fitted on walls and floors constructed of new concrete, the concrete surface should be treated to reduce the risk of leaching of free lime or mineral salts, which could otherwise build up over time and eventually create an obstruction of the drainage system.
Where the floor cavity incorporates perimeter channels that discharge into a sump(s), both the channels and the sump(s) should be cleaned before, during and after installation of the membrane to allow uninterrupted drainage
The regular servicing requirements for this type of waterproofing system should be clearly set out in the documentation supplied to the client, including the need for regular planned maintenance of the drainage and/or pumping systems which must never be done less than once a year.
With cavity drain systems the client and their designers should always be informed that any failure to adhere to the defined maintenance schedules could result in a premature failure of the waterproofing system.
Advice on Basement Waterproofing System – All Types
Whatever your basement waterproofing and tanking requirements, for all types of waterproofing products you can contact any NCC Basement Waterproofing Site office to receive, FREE unbiased, independent advice, plus the best prices and fast delivery of the most appropriate waterproofing system solutions for your project!
Basement Waterproofing Systems
There are three main Types of Waterproofing System for watertight basement design and construction works, with the right selection being based on the specific requirements of your project. – For a start:– Is it a 'New' or 'Existing' structure?; What is the required Grade of Watertightness (Grade 1, 2 or 3) and the tolerance for water vapour penetration? What is the available access – now and in the future on completion?; How deep is the basement? What is the level of the water table and its anticipated variation over the service life of the structure?
With the answers to these basic questions the most likely Types and Systems for waterproofing on your project can be selected from the Tables 1, 2 and 3 shown below on this page following the guidelines as outlined on our Basement Waterproofing Standards Page.
The Most Appropriate Waterproofing System
The most appropriate waterproofing system for your basement or structure can then be selected in accordance with BS 8102: 2009 Clause 6 Water Resisting Design. The basement waterproofing protection system can be selected as Type A Barrier Protection, Type B Integral Protection, Type C Drained Protection, or as a combined Type of these basement waterproofing systems as illustrated below.
As clearly now recommended in the latest version of the Standard, combined waterproofing systems can also be considered for additional security in particularly sensitive areas, or where there are extremely stringent basement waterproofing requirements, especially where remedial works to stop leaks, or future waterproofing repairs are not easily possible due to access or other factors. (i.e. Type A + Type B, Type B + Type C, Type A + Type C, etc.)
The basement structure's movement joints, construction joints and the areas around pipe entry's or service ducts must always be given special consideration with all possible waterproofing strategies, including specific detailing solutions to meet specific requirements. NCC's Basement Waterproofing Specialists understand the importance of all of these requirements and can assist you in integrating the appropriate procedures and details into a complete basement waterproofing system, of whichever type is determined to be the most appropriate and cost effective for your project.
For more details on specific waterproofing Tanking solutions, to our 'Basement Tanking Products' page.
For more information on the different types of basement waterproofing products and systems available and their classification in accordance with BS 8102: 2009 is outlined in the tables and notes below:
The Selection of Different Waterproofing / Ground Water Protection System Types According to the Water Table Risk Classification. (Based on BS 8102: 2009)
Risk Associated with the Water Table Level
Water table Classification (see Notes below)
Waterproofing Protection Systems
Type A Barrier Protection
Type B Integral Protection
Type C Drained Protection
Piled Walls
Reinforced concrete wall to BS EN 1992
Low

High
Low
Acceptable
Acceptable
Acceptable
Acceptable
Variable
Acceptable if the "variable" classification is due to surface water. Then specific product / system / detailing recommendations are also required.
Acceptable where:

a) the piled wall is directly accessible for repair and maintenance from inside the structure; or

b) the piled wall is combined with a fully bonded waterproofing barrier; or

c) the piled wall is faced internally with a concrete wall to BS EN1992.
Acceptable
Acceptable
High
Acceptable when:

An appropriate cement based multi-coat render system (such as Sika-1 pre-bagged system) or cementitious coatings (such as SikaTop Seal 107 or Remmers Sulfatex Grout) are used;
and the wall is of concrete in accordance with BS EN1992
Acceptable
Acceptable
Measures to reduce risk

Use a combined protection system
Incorporate appropriately designed sub-surface drainage and ensure that this is maintained
Use a fully bonded waterproofing barrier
Lower the permeability of the main structural wall
Use water tight concrete with a waterproofing admixture, such as Sika-1 in accordance with BS EN 934
Ensure that discharge systems, e.g. pumps etc, are maintained so that the system remains effective

NOTE The water table classifications are defined as follows

Low - where the water table or perched water (unpressurized water held above the water table by impermeable rock or sediment) is assessed to be permanently below the underside of the base slab. This only applies to free-draining ground and strata.
Variable - where the water table fluctuates.
High - where the water table or perched water table is assessed to be permanently above the underside of the base slab.
Ground permeability and slope should also be considered as this might also affect the level of risk under a low or variable water table.
Table 2: The Different Grades of Below Ground Basement Waterproofing Protection according to BS 8102: 2009 Revised
are defined as:
| | | |
| --- | --- | --- |
| 1 | Car parking; plant rooms (excluding electrical equipment); workshops etc. | Some seepage and damp areas are tolerable, dependent on the intended use. Additional local drainage might be necessary to deal with seepage water. |
| 2 | Plant rooms and workshops requiring a drier environment than Grade 1 i.e. storage areas etc. | No water penetration is acceptable. Damp areas tolerable; additional ventilation might be required to remove vapour. |
| 3 | Ventilated residential and commercial areas, including homes, offices, restaurants, leisure facilities etc. | No water penetration acceptable Ventilation, dehumidification or air conditioning may be necessary, appropriate to the intended use. |
Important Notes:
The previous edition of BS 8102 (1990 edition) also referred to additional classification of 'Grade 4 Environments' for the waterproofing of basements where absolutely no water or water vapour penetration was permitted. However; Grade 4 has not been retained in this latest revision, as its only difference from Grade 3 was its performance level relating to protection against water vapour penetration that could include ventilation, dehumidification or air conditioning in the event of water vapour penetration.
However this would normally be achieved post-construction, by the application of additional vapour tight coating systems, such as impermeable epoxy resin coatings such as Sikagard 62. Therefore the structural design and construction requirements for Grade 4 were effectively also the same, or extremely similar to those of Grade 3. As a result there is no longer a 'Grade 4' as such, plus any requirements to prevent or reduce water vapour penetration must be specified and detailed separately in the design and detailing process.
Table 3: The Categories of and Products that are included in the Classification ofof Type A Waterproofing Barrier Materials. (According to BS 8102: 2009)
Type of Waterproofing Barrier Protection
Waterproofing System Description
Relevant Waterproofing System Standards
Method of Waterproofing System Application
Bonded sheet waterproofing membranes
Bitumen-based, sheet membranes can be:

cold-applied (self-adhesive); or
hot applied ("torched-on" or bonded using a hot bitumen adhesive)
increasingly reducing in popularity due to the potential fire / flame hazards and additional site insurance cost. Not recommended by NCC.

BS 743:1970, Class A or BS 8747
Can be applied externally or sandwiched.
Composite sheet membranes.(traditionally bitumen based but also newer technology HDPE – High Density Poly Ethylene, and increasingly FPO – Polyolefin based materials).
Can be applied externally or sandwiched.
Liquid applied waterproofing membranes
There are different types of liquid applied membranes, which include one component materials (usually bitumen or polyurethane based) and higher performance two component systems. e.g. Remmers Profi Tight
-
Can be applied externally or sandwiched
Geosynthetic (bentonite) clay liners
These are traditional and comprise 'bentonite' a type of clay with a 'carrier' material, typically of geotextile or high-density polyethylene. There are two principal forms: dry bentonite and pre-hydrated bentonite. Can be problematic when used in variable water tables due to problems with wash-out and between wetting and drying out which is not reversible. Not recommended by NCC
-
Can be applied externally or sandwiched
Mastic asphalt
Applied in three coats as a hot liquid. These systems are also now becoming less popular due to fire risks and insurance costs etc. Not recommended by NCC
BS EN 12970
Can be applied externally or sandwiched
Cement Based crystallisation slurries and powders
These are applied as impregnating coatings or slurries to surfaces of concrete walls and slabs. NCC does not consider these materials completely effective alone, unless they are used in combination with an additional layer of crystalline render or slurry coating system.
-
Can be applied internally or externally.
Cement Based multi-coat tanking, renders and coatings
These are generally applied in multi-coat renders or slurries and are resistant to liquid water, but will allow some water vapour penetration e.g. Sika 1 System, Remmers Sulfatex Grout and SikaTop Seal 107.
-
Can be applied internally or externally.
For specific advice in selecting the right type and classification of waterproofing system for your project, please contact any of our offices (details on the left of this page) and one of our waterproofing specialists will be pleased to assist you.